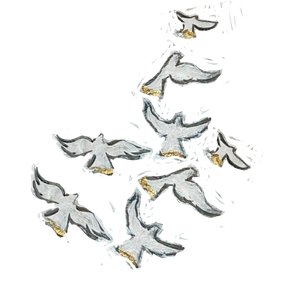 About
Jordan McEwen is an Americana singer-songwriter based in Texas.  He was born and raised in Lubbock, a dust bowl that inspires a need to create art in many forms. 
Jordan McEwen's lyrics follow his own rules and carry the listener through meaningful stories, but his vocal delivery is what brings life to his words. Jordan McEwen is an artist, simply put.  He uses Country, Folk, and even Punk elements to create music that has no expiration date.  Jordan can explain every song in detail if you ask, but he prefers to leave most of the meaning to be interpreted by the listener.  
Jordan McEwen spent his teen years playing baseball and writing songs.  He decided that he wanted to pursue music when he witnessed his first concert, Pantera.  He got his first guitar when he was thirteen, and "[spent] hours grinding [his] fingers on the acoustic guitar strings."  
"I was bound and determined to start a band. My brother chose bass and our lifelong childhood friend had an electric guitar, so I bought a pawn shop drum set with the money I had saved up working with the family moving business during the summer when I was fifteen. We were playing shows shortly after getting a set together. We'd make flyers and pass them out at our high school and draw about a hundred folks into our singer's grandparent's Mexican food restaurant with a one-dollar cover. Our singer's dad even built a moveable stage for the concerts we'd throw. That was my first experience making money doing music."
Jordan graduated high school early, then went on to study Commercial Music at South Plains College in 2001.  He was seventeen years old.  He played drums and bass in a few hard rock and metal bands, then discovered his love for Americana songwriting after he saw The Flatlanders in concert in 2002.  He graduated from Texas Tech in 2008 with a BA in History, then later earned his Masters Degree in Education.  Jordan worked odd jobs before beginning his career in education until the school he worked for closed down.   "That's when I went back to finding myself through music. It's always there when I need it, and oh how I need it. It's my happy place. I turned that experience into my debut album with the help of some all-star musicians and artists, so I learned to appreciate the adversity. A tree gains its strength from the wind it faces", he said.  
Jordan McEwen released his debut album, "Fail In Love" along with a music video, in the midst of the COVID pandemic, which produced more challenges.  Despite many setbacks, Jordan has persevered.  He draws inspiration to continue growing and progressing through his family crest which depicts young branches sprouting from the trunk of an oak tree with the motto "We grow green. Reviresco!"
Jordan balances his passions by working as an educator and baseball coach while still creating music, and even visual art.  In 2022, Jordan McEwen released his single, "Mariposa" as well as a song about surviving abuse called "Ventriloquist."
Jordan McEwen will release the title track from his second studio album, "Procession" on Christmas Day 2023.  The album will be released in 2024.  "Procession" is about grappling with death in an extraordinary light.  It will be featured on Civic Lubbock's annual CD, "Lubbock Music Now 2024" and performed and aired on Fox in 2024.